A Fast Growing Education Company Ignites Momentum with Support from a PR Firm that Dives in and Rolls Up Their Sleeves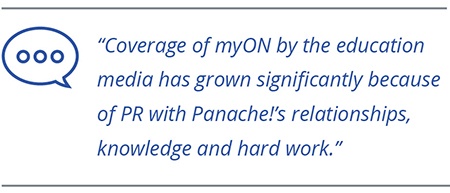 If you were to eavesdrop on a weekly phone call between myON by Renaissance and PR with Panache! you might have trouble knowing which participants are from PR with Panche! and which are from myON. "PR with Panche! knows us. They can speak about myON and our initiatives as well as we can," said Lynn Walker, myON's Marketing Manager. For more than two years, PR with Panache! and myON have worked together to share with the education market how myON's innovative personalized literacy environment is reinventing the ways in which students and teachers interact with text. "They understand what content the media wants and have helped us identify and create stories that provide real news and value to educators and administrators across the country," shared Todd Brekhus, Cheif Product Officer at Renaissance. When myON was launched in 2011, another education PR firm was tasked with creating awareness for the new company. After two years, Todd believed "it was time for a change. We seemed to be telling the same stories to the same people. We needed to try something new."
Adding Creativity and Innovative Strategies to the PR Mix
In 2013, Todd decided to take a fresh approach with their PR and partnered with PR with Panache! He and myON found the change they were seeking. According to Lynn, "PR with Panache! has done an incredible job of ensuring our stories are covered in places other companies aren't. They're very creative and have a knack for getting the right stories in front of the right people at the right time. And they've been doing that consistently for more than two years now."
Building on myON's Thought Leadership in Unique Ways
An example of PR with Panache! creative approach is the Blended Learning Summit that they organized to showcase how Meridian Public Schools (CT) has implemented blended and personalized learning throughout the district using edtech solutions like myON. Several PR with Panache! clients, including myON, sponsored the Summit. "The Blended Learning Summit was an excellent opportunity for us to connect with high-level administrators and really see firsthand how myON is supporting the amazing work they're doing to personalize learning," said Lynn. "myOn has received great exposure from our involvement in the event. We couldn't have done this on our own. PR with Panache! came up with the idea and made it happen." PR with Panache! has also elevated myON's status as a thought leader in the education community with articles like Making Reading Your Own that was Language Magazine's cover story in January 2015. This story was an opportunity for Todd to share his thoughts on the importance of students, particularly English language learners, developing their own personal digital libraries. "We weren't talking about myON or our solutions directly," said Todd. "We simply talked about the many benefits of personal libraries and what we believe in as an organization. Even though the focus wasn't on us, it's turned out to be one of the most successful pieces of PR we've done.
Unexpected Expertise Added to the myON Team
myOn has found that they've not only added PR expertise to their team through the relationship but also strategic sales and marketing support. Lynn in particular has been pleasantly surprised by the extent of the services PR with Panache! provides.
A Team that Gets Results
After nearly three years of working together, Lynn has found that the two companies "really feed off of each other" and have developed a strong, team dynamic that continually pays off. "PR with Panache! is not just another service provider. They roll up their sleeves and dive in right beside us. We've built a relationship that has created an environment in which we all do our best work." This unique, personalized approach to working with myON is exactly what Todd was hoping for when he decided to try another PR firm. "PR with Panache! has done a great job. They've brought awareness of our solution to an entirely new level. We're seeing results." And, at the end of the day, results are what matter.
---